The Arch Street Meeting House was built in the early nineteenth century as a gathering place for the 'Society of Friends', a religious group also known as the Quakers.
Quakers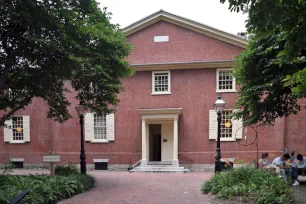 The Society of Friends were a religious society in England with roots in Christianity. They were non-violent, rejected all forms of hierarchy, and broke away from the Church of England.
They did not respect the Crown and as a result were considered a danger to the establishment and were actively persecuted in England. People called them 'quakers' because they described themselves as 'trembling' during religious practices.
One of the most prominent Quakers was William Penn, who through his connections in high places and his father's wealth was granted a piece of land in the New World. Penn and fellow Quakers sailed to the new colony and founded Philadelphia. Here he created the 'Holy Experiment' – a charter of privileges that allowed freedom of worship.
The Meeting House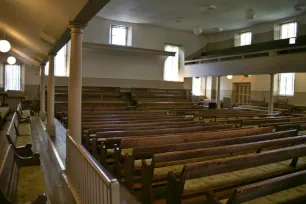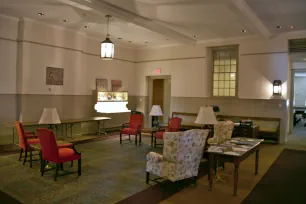 Quakers do not have any clergy, so for their religious services, they prayed in meeting houses that were also used for other purposes such as business gatherings. The Arch Street Friends Meeting House is the oldest such building still in use today. It is located on a property that in 1693 was given by Penn to the society and served as a burial ground.
In 1803-1804, the house was built over the graves to create a large meeting house for annual Quaker meetings. The design of the brick house is attributed to Owen Biddle, Jr. Unlike most religious buildings, the Quaker houses are very plain with little to no interior ornamentation. The exterior decoration of the Arch Street Meeting house consists of a columned portico and wood shutters.
The building has two wings flanking a central gabled structure. Each wing contained a meeting hall, one for women and one for men. In the 1920s, men and women started to gather in a single room. The east room, formerly the men's meeting room, is now a multipurpose room. Here you can see some dioramas that depict Quaker history as well as some Quaker artifacts. The west room, crammed with wooden benches, still serves its original purpose as a gathering place for Quakers.