The Academy of Natural Sciences is a research center and natural history museum with a collection of specimens that numbers in the millions. It is the oldest such institution in North America.
History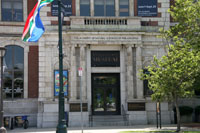 Museum entrance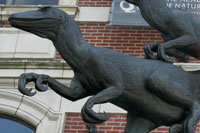 Dinosaur sculpture in front
of the museum
In 1812 a group of six people with interests in natural sciences decided to establish an institution dedicated to the cultivation of these sciences. They founded the Academy of Natural Sciences and were soon joined by Thomas Say, a pharmacist who would go on to distinguish himself as a pioneer naturalist. In 1828, they opened their collection to the public.
The academy didn't have a permanent home until the mid-nineteenth century, when it moved into a dedicated building at the corner of Broad and Samson Streets. But as its collection kept expanding the academy quickly outgrew its home and in 1876, the year of the Centennial Exhibition, it moved to its current premise on Logan Square.
The museum is still housed at this location, however the splendid edifice that was originally designed by James H. Windrim in Victorian Gothic style has been remodeled to such an extent that it is barely recognizable. Its current appearance is the result of a 1909 redesign by Wilson, Harris & Richards.
Exhibits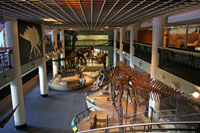 Dinosaur Hall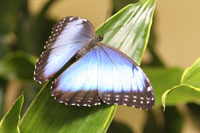 Butterfly
Polar bear diorama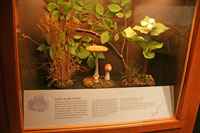 'Secrets of the Diorama'
The stately building of the Academy of Natural Sciences has four levels, housing both temporary and permanent exhibits. A perennial favorite is the Dinosaur Hall, the first hall that visitors encounter after entering the museum. In total, there are some thirty different dinosaurs represented, including a skeleton of the ferocious Tyrannosaurus rex.
Another popular attraction is the indoor tropical garden with numerous live butterflies. You can walk into the room and observe the insects – some of which are the size of a small bird – from up close.
The core of the museum's permanent displays is formed by its collection of dioramas, which give visitors a good idea of the size and features of exotic animals. There are thirty-seven dioramas in total that show mounted animals from Asia, Africa and North America including bears, lions, tigers and the imposing moose in a representation of their natural habitat. And if you're curious about the art of dioramas, the museum even has an exhibit that explains how they were made.
On the top floor is "Outside In", an educational and interactive experience for children where they can meet live animals. These animals live in the Live Animal Center, in the museum's basement, where the Academy provides shelter for more than one hundred animals. Finally, on the main floor is 'Science at the Academy', an exhibit where visitors can learn about the research conducted at the Academy of Natural Sciences.