30th Street Station is Philadelphia's main Railway Station. It was built between 1929 and 1934 by Graham, Anderson, Probst & White.
Increasing Traffic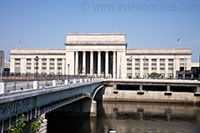 30th Street Station
When the 1881 Broad Street Station – a train shed terminal in the center of Philadelphia – became too small to cope with the growing number of passengers, the Pennsylvania Railroad decided to construct a new, larger station out of the city center.
In 1925, an agreement with the city gave the Pennsylvania Railroad tunnel rights from 15th Street to the Schuykill river, while the city in return was given land needed for the construction of the Benjamin Franklin Parkway.
Two Stations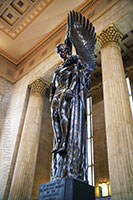 Pennsylvania Railroad
World War II Memorial
The Pennsylvania Railroad built two stations: Suburban Station at the city center and 30th Street Station on the west side of the Schuykill river. Both were designed by the Chicago firm of Graham, Anderson, Probst & White, the successor firm to D.H. Burnham & Co.
The Building
The main concourse is enormous: it measures 135 ft. by 290 ft. (41 x 88 m.) and has a 95-ft-high (29 m) coffered ceiling with beautiful Art Deco chandeliers. The building's neoclassical exterior is dominated by monumental columns. Although clearly neoclassical, the exterior hints to a more modern style, which is even more evident in the station's interior.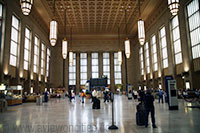 The station's main concourse
When the station opened in 1934, it featured over 3,000 sq. ft. (279 sq. m.) of hospital space, a chapel, a mortuary and a landing space for small aircraft on the reinforced roof.