The Church of Saint-Germain-des-Prés is the oldest church in Paris. Originally built in the sixth century, it was long part of an important Benedictine abbey. The church is at the center of a popular quarter of the same name.
History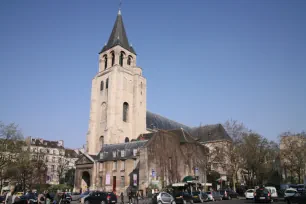 The church has had a tumultuous history. In 512 AD, Saint Germain, who would later become bishop of Paris, convinced the Merovingian king Childebert to build an abbey with a church. The church, which held important relics, was dedicated to Saint Vincent and the holy cross. It was one of the most important churches in France, and the final resting place of the Merovingian kings. Its roof was gold painted, which led to the name 'Saint-Germain-le-Doré' (gilded Saint Germain).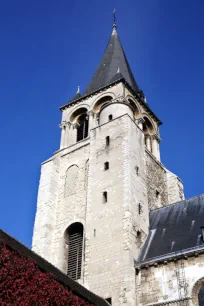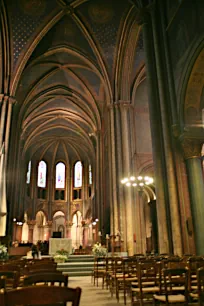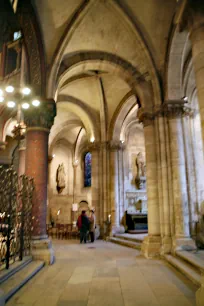 In the ninth century, the church was ransacked several times by the Vikings and ultimately destroyed by fire. Around the year 1000 the reconstruction of the church started, and it was eventually dedicated in 1163. During the late Middle Ages, a number of additional buildings were erected at the Benedictine abbey complex, which grew into one of the largest and most important in all of France.
During the French Revolution, the religious orders were suppressed, and the abbey was used as a warehouse. A large explosion of gunpowder that was stored in the refectory destroyed almost the whole complex, and severely damaged the church.
The Church today
The church's current appearance is the result of a renovation in the nineteenth century, when architect Victor Baltard and painter Jean-Hippolyte Flandrin were asked to restore the church to its former splendor.
The exterior of the church is defined by its sturdy bell tower, one of the oldest in all of France. Two more towers built on either side of the transept did not survive the revolution era. The interior shows a mixture of different architectural styles, a result of continuing construction throughout the centuries. Original sixth-century pillars support the twelfth century choir; Romanesque arches are combined with Gothic vaulting, and there are even Baroque elements.
There are several interesting tombs in the chapels of the church, including those of philosopher René Descartes and John II Casimir Vasa, who was king of Poland in the seventeenth century until he became the abbot of the Abbey of Saint-Germain-des-Prés.
Saint-Germain-des-Prés Quarter
The church gave its name to the Quarter of Saint-Germain-des-Prés, a lively area in the sixth district which gained its reputation as a literary district in the twentieth century when writers, intellectuals and philosophers met at one of its many cafés. Philosopher Jean Paul Sartre and Simone de Beauvoir often met at the 'Café de Flore' and Ernest Hemingway was a frequent guest at 'Les Deux Magots'.