The Bibliothèque Nationale de France (National Library of France) was built in 1996, replacing an old structure, located near the Louvre, which had become grossly inadequate to house the treasures of France's literary world.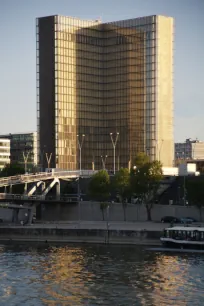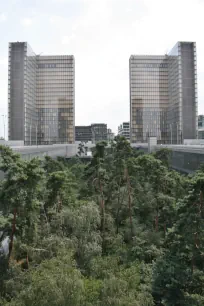 The construction of this huge new building was proposed in the 1980s by then-President François Mitterrand, and was enthusiastically received by the French public and has been highly-acclaimed for its unique design. Mitterrand was known for his fondness for extravagant buildings.
The Building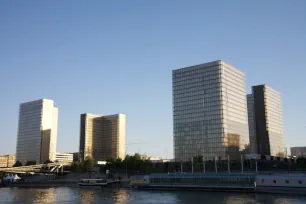 The glittering new library is quite futuristic in design, which is exactly what architect Dominique Perrault had in mind.
The building consists of four 24-story towers, shaped as open books, all overlooking a beautiful inner garden. The main reading room areas are open and airy, with lots of glass providing the extra light so often lacking in old, dingy libraries. The furniture is ultra-modern yet comfortable, warm yet sleek, fashioned from a variety of woods.
The library can accommodate 1,600 readers – all at one time – if necessary. That makes this one of the largest libraries in the world. Many of the public reading areas overlook the pristine courtyard, giving the reader the impression that they're far removed from the hustle and bustle characteristic of the City of Light. An additional 2,000 seats are found in private reading areas that are meant for researchers only.
What's Inside?
The books and other objects inside this grand building are a source of great pride to the French people. It is said that nearly ten million historical documents are available for viewing by qualified experts in a particular field. Much of the archives dates back to medieval times.
These amazing resources are the main focal point of the library – which attracts researchers from far and wide – though the public has access to nearly 200,000 books as well, in additional to literally thousands of periodicals from around the world.
The Bibliothèque Nationale de France also sponsors a number of special events throughout the year, including temporary exhibits, lectures or workshops, and performing arts events such as concerts or folk dance demonstrations.