The Musée du Quai Branly is a museum devoted to art from non-Western cultures. Its large collection is displayed in a remarkable museum building designed by the French architect Jean Nouvel.
The Building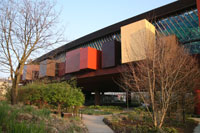 Quai Branly Museum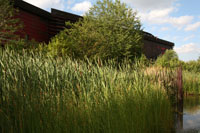 The garden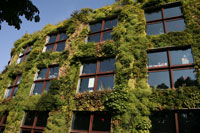 Mur Végétal
The conspicuous building that houses the museum's collection is worth a visit on its own. It is a quite kaleidoscopic creation from the renowned French architect Jean Nouvel who is best known for his modern technological buildings such as the Torre Glòries and the Copenhagen concert hall. For this building, however, Nouvel wanted a different kind of architecture. Since the building would house non-Western art, he opted for architecture that is not based on Western norms and technology.
The result is a structure consisting of four different buildings. The central museum building is arc-shaped and rests on tall stilts. Colorful panels protrude from the building's top floor. On the other side, the exterior is defined by rust-colored blinds. Nouvel's bold design forms a stark contrast with the Haussmanian architecture of Paris.
The Garden
The Quai Branly museum is set in a 1.8 hectare (4.5 acre) large garden designed by Gilles Clément. On the north side, the garden is shielded from the street noise by a large curved glass wall. The semi-wild garden has a very varied design with paths winding through bushes, river plants and a diverse assortment of trees. Since the museum rests on pillars, the garden extends from the north side underneath the main building all the way through to the other side.
Also remarkable is the so-called 'Mur végétal', an 800 square meter wall of an administrative building of the museum covered with more than 15000 plants.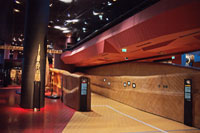 Interior
The wall was created in 2004 by the French botanist Patrick Blanc, who is specialized in tropical plants, and consists of some 150 different plant species from Europe, America and Asia.
The Museum
The Quai Branly Museum opened its doors to the public in 2006 with a collection of some 3,500 different artifacts from indigenous non-European cultures.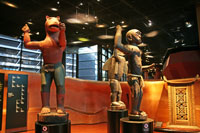 Royal Statues from
Abomey, Benin
A long winding ramps brings visitors to the main level where the objects are grouped in zones. Each zone represents a geographical area – Africa, Asia, Oceania and the Americas. A path guides visitors through the different zones.
The permanent collection includes objects such as heraldic poles from Canada, a ceremonial seat from Ecuador, a king's throne from Benin, masks from Papua New Guinea, brightly colored carnival costumes from Bolivia, a funerary statue from Vietnam, a Maya statue from Mexico and much more.