Galeries Lafayette is a famous department store in Paris, founded at the end of the nineteenth century. Every year, millions of shoppers visit its main store at the Boulevard Haussmann, a ten-story building crowned with a magnificent glass and iron dome.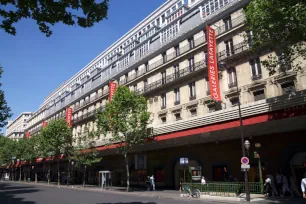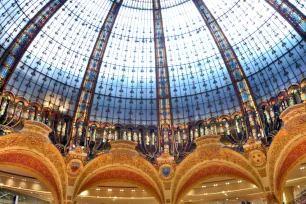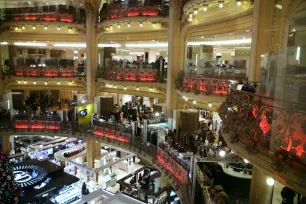 In December 1893 cousins Théophile Bader and Alphonse Kahn opened a haberdashery (a store selling sewing material), which was called 'Aux Galeries Lafayette'. The name of the store referred to its original address at rue La Fayette, at walking distance from the Opera Garnier. They soon started to produce and sell their own fashion.
The store expanded rapidly with the purchase of several buildings across the street, and Galeries Lafayette evolved into a major department store, selling a whole range of products.
Magasin Coupole
In 1905 Bader commissioned French architect Georges Chedanne with the redesign of the newly purchased buildings, a process that was completed in 1907. A few years later, the complex was expanded into the structure that we know today by Ferdinand Chanut, a pupil of Chedanne.
The 'Grand Magasin' (department store) officially opened in 1912. The most striking feature of the building is the monumental dome with colored glass and wrought iron, which was created by Chanut. The dome gave the building the nickname 'Magasin Coupole' (domed store).
Expansion
In 1916, Galeries Lafayette started expanding outside Paris, first with stores in smaller cities across France, such as Nice and Nantes. With the opening of Galeries Lafayette Berlin in 1996, the department store started a new chapter in its history with expansion outside of France.
Other Grands Magasins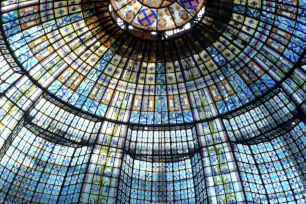 While the Galeries Lafayette may be the most famous of Paris's Grands Magasins (Department Stores), it was far from the first one. Already in 1855, the Grands Magasins du Louvre opened, soon followed by the Grands Magasins du Printemps and the Samariteine, both built in 1865.
Printemps is Lafayette's main competitor, and its department stores are just a stone's throw from the Galeries Lafayette. The 9th floor of the main store has a terrace with great views over Paris. And like the Lafayette, it has a magnificent glass dome in Art Nouveau style.