The U.S. Custom House – a National Historic Landmark that is also listed on the National Register of Historic Places – is an imposing Beaux-Arts building designed by Minnesota architect Cass Gilbert. The Custom House was one of the first public building projects to employ private architects.
Construction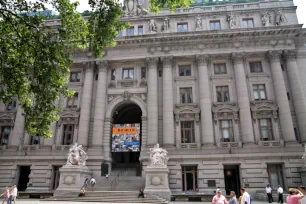 The current Alexander Hamilton U.S. Custom House sits on Bowling Green at the tip of Manhattan, occupying the site where the first Custom House was built in the late 1700s but which was destroyed by fire in 1814.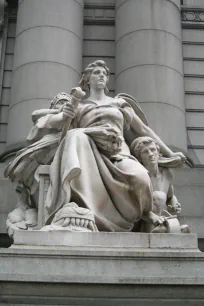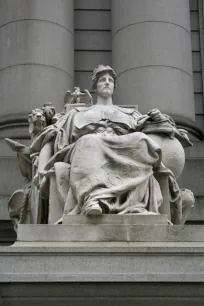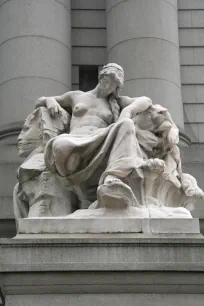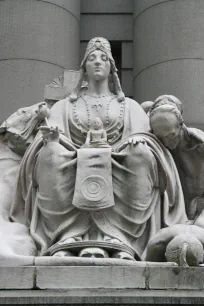 By 1892, it was evident that the Customs Service, which had moved from place to place for almost eighty years after the fire, needed a permanent and larger place to call its own. The government purchased the old Bowling Green site, and in 1893, the new Tarsney Act authorized the secretary of the treasury to use private architects, selected through architectural competitions, to design federal buildings.
Twenty well-known firms were selected to vie for the honor of building the new U.S. Custom House, and the Beaux-Arts Design of Cass Gilbert (1859-1934) was selected. Gilbert would eventually go on to design the Woolworth Building in NYC and the U.S. Supreme Court in Washington, D.C. It would take from 1899-1907 to complete the new custom house.
Its Architecture
Situated at the foot of Broadway, the U.S. Custom House is a steel-framed, seven-story-tall Beaux-Arts structure. The style is typical of what was commonly being built in Manhattan during that period of time.
Paired Corinthian columns grace the facade, standing three stories tall atop the first story of the structure. An entablature encompasses the fifth story, and a sixth sits above the entablature. The seventh story is within the mansard roof.
Sculptures representing international commerce figure prominently in front of the facade of the U.S. Custom House. The sculptures, figures made of limestone and representing America, Asia, Europe, and Africa, are by Chester French (1850-1931). An additional twelve marble statues represent "seafaring nations" and another row of sculpted heads depicts the "eight races of mankind".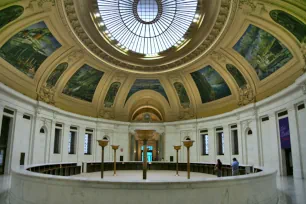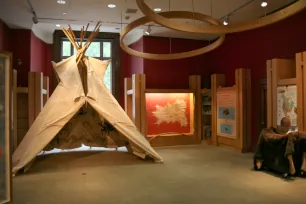 The interior has a central rotunda with surrounding corridors. Spaces are symmetrical. The two-story Great Hall is fabulously ornate, with variously-colored marble finishes and grand curved staircases with bronze railings and marble treads.
Inside many of the ceremonial spaces, visitors will find nautical motifs, and between the skylight and the dome's entablature, one can view murals by New York artist Reginald Marsh (1898-1954) depicting ships entering New York Harbor.
National Museum of the American Indian
Extensive renovation work was performed on the interior of the U.S. Custom House throughout the 1980s and early 1990s. In 1994, the building became the new home of the Smithsonian's George Gustav Heye Center of the National Museum of the American Indian.