During its heyday in the middle of the nineteenth century, New Orleans became the largest city in the South, partly thanks to the steamboats that opened the city to trade with the rest of the country.

Steamboat Natchez
Steamboats on the Mississippi
Steamboat Natchez
Steamboats first arrived on the Mississippi River in the early nineteenth century. Thanks to their flat bottom, they were ideal to navigate the shallow waters of the mighty Mississippi.
The introduction of the steamboats significantly reduced the trip from Louisville, Kentucky to New Orleans from several weeks with traditional rafts and flatboats to just several days. During their heyday from 1830 to 1860 they turned New Orleans into the second-largest port in the country. Competition from railway and road transportation and the development of more modern boats with diesel engines ended the steamboat era in the early twentieth century.
The Natchez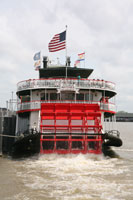 The 26 tons weighing
paddlewheel
The steamboat 'Natchez' is named after a tribe of Indians native to the southern Mississippi area. The Natchez is the ninth steamboat to bear that name. Its predecessors were all built during the nineteenth century. The current vessel, Natchez IX, was built in 1975 by the New Orleans Steamboat Company. It was modeled after the Hudson, a packet boat that was in operation from 1886 to 1905.
In order to comply with Coast Guard regulation, modern materials were used to build the steamboat, and it is entirely made of steel. However, parts of the Natchez are authentic including the steam engine, which was built for the sternwheeler Clairton in 1925.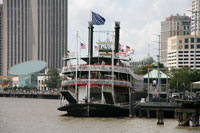 The Natchez moored at its dock
Its copper and steal steam whistle comes from a steamboat that sank in the Monongahela river in 1908 and the copper bell was taken from another steamer. To produce a purer tone, the bell was inlaid with silver melted from 250 silver dollars.
A Cruise on the Natchez
The Natchez departs from the Toulouse Street Wharf near Woldenberg Park for a two-hour cruise on the Mississippi River. Those who sit on deck can follow the historical commentary that is provided by the ship's captain. Entertainment is provided by a live jazz band, and dinner is served in a dining room on the second deck.
Creole Queen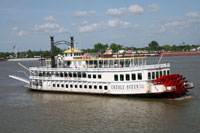 The Creole Queen
Another option for those looking for a river cruise on the Mississippi is the Creole Queen, a paddlewheeler built in 1983 with a modern engine and air conditioning but modeled after the paddlewheelers of the 1850s. The Creole Queen departs from the Riverwalk Canal Street dock.