The Redpath Museum is a museum of natural history on the campus of McGill University. Its varied collection of natural treasures includes mummies, minerals, shells and fossils that are displayed in Victorian-era cases.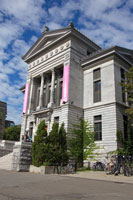 Redpath Museum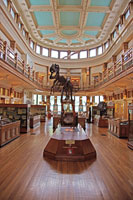 Interior
The museum first opened in 1882 thanks to generous donations provided by Peter Redpath, a Canadian businessman and philanthropist. It originally displayed the collection of naturalist Sir William Dawson, at the time the Principal of McGill. It was primarily meant as material for students and professors of McGill, but the museum collection was also made accessible to the public.
The Building
The Redpath Museum is housed in a magnificent edifice built between 1880 and 1882 to a design by the architects Alexander C. Hutchison and Alexander D. Steele. They created a temple-like structure inspired by the architecture of Ancient Greece.
The interior, which is for a large part still authentic, evokes the Victorian age with its wooden display cases, panels and balustrades. The ceiling has a beautiful stucco decoration.
The Collection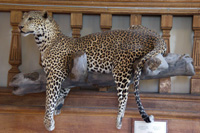 Mounted leopard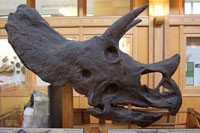 Head of a Triceratops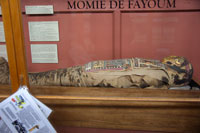 Egyptian mummy
While relatively small, the museum building's three floors are crammed with items ranging from fossils and minerals to mounted animals. The museum boasts a collection of about three million objects. It is particularly popular for its mummies, but there are many other highlights, such as shrunken heads and a large dinosaur skeleton.
The entrance hall on the ground floor features an exhibit on marine animals such as whales, sea turtles, giant crabs and even marine reptiles from the Mesozoic era.
On the stairs leading to the second floor you pass a collection of mounted animals including a western gorilla, a leopard, a lion and a gemsbok. The Dawson Gallery on the second floor has displays featuring fossil specimens found in Quebec and surroundings. The star attraction here is the full-size skeleton of a Gorgosaurus, a dinosaur from the Late Cretaceous Period. More recently extinct species such as Passenger Pigeons can be seen here in mounted form.
There is also an exhibit on Darwin, with a handwritten letter of the scientist and a 4th edition copy of his groundbreaking book "On the Origin of Species by Means of Natural Selection", in which Darwin provided evidence for the evolution of species. On the same floor you can also see a large collection of minerals from Quebec as well as the Abe Levine Shell Collection which contains more than one thousand shells.
In the World Cultures Gallery on the third floor, you find a fascinating collection of mummies, including several animal mummies. You can even see the reconstructed faces of several mummies. Also on display is a collection of objects from cultures around the world, such as armor from Asia and African musical instruments.