Initially an iconic part of Canada's Expo '67, the Biosphere now educates young and old on the importance of eco-action and the study of water and the role it plays in our lives.
Its First Life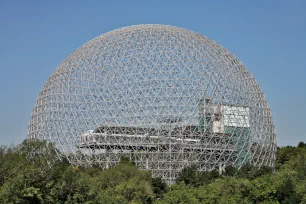 In 1967, the American government was contemplating its contribution to Expo '67, the upcoming world exposition in Montréal which would showcase countries from around the world. The U.S. hoped to make an impact of the exposition and hired famed architect, Richard Buckminster Fuller, to fashion the design for its building.
Fuller's architectural skills resulted in the design of a huge geodesic dome that would quickly become one of the main attractions at the fair. Fuller was already known for his domes, but this was, by far, his most elaborate and complicated work.
The United States Pavilion stood 200 feet high (61 meters) and had a spherical diameter of 250 feet (76 meters). It was constructed as a frame of steel pipes enclosing some 1,900 molded acrylic panels. The dome used an elaborate system of retractable shading screens to control the heat inside, and a computer adjusted the screens in accordance with the direction of the sun's rays. The result was stunning!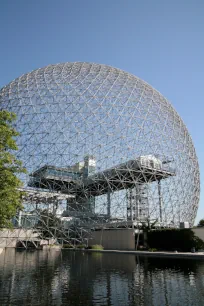 Its Second Life
When the Expo was finished, instead of dismantling the building, the U.S. donated it to the city of Montreal. For several years, it served as an exhibition area for plants and birds.
During structural renovations in 1976, a fire occurred at the dome and the transparent outer skin was completely lost. Until 1990, access to the site was forbidden due to structural concerns.
That year, Environment Canada bought the structure at a cost of $17.5 million in hopes of building its Biosphere – an attraction/museum "devoted to eco-action, showcasing, observing and studying water, and the Great Lakes-St. Lawrence River ecosystem". Architect Eric Gauthier was selected to redesign the interior in keeping with Fuller's original plans. It opened in 1995.
What's Inside?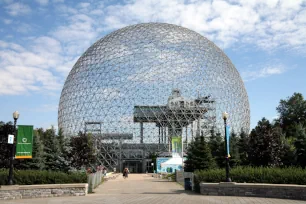 A visit to the Biosphere is a treat for all ages, especially kids who love hands-on interactive exhibits. The displays and movies highlight the importance of the Great Lakes-St. Lawrence River watershed and endeavor to educate visitors as to environmental concerns that plague the area.
Special programs for groups include a guided tour and the chance to participate in experiments, games, and other activities that showcase the area's watershed.