Milan's monumental Stazione Centrale (Central Station) is one of Europe's largest railway stations. It was constructed between 1912 and 1931 after a design by Ulisse Stacchini who created an enormous head building based on the monumental baths in imperial Rome.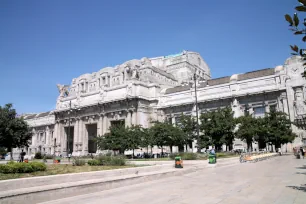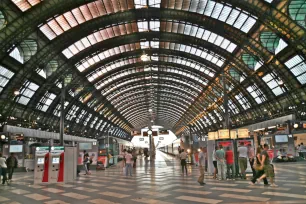 In 1906 Milan's central station – built in 1864 in Art Nouveau style at the current Piazza della Repubblica – was deemed too small and modest, so local authorities launched a competition for the design of a new, grander railway terminal. A Neoclassical design by Arrigo Cantoni was selected as the winning entry. However, by 1912, this design was considered too conventional, and a new competition was held, this time won by Ulisse Stacchini.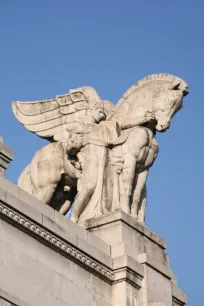 Design
Stacchini's creation, inspired by the Baths of Caracalla in Rome and influenced by the magnificent Beaux-Arts railway stations in the United States, was altered during the long construction period, which would last until 1931. During this period, dictator Mussolini had grabbed power, so it's probably no surprise that the end result is more monumental than the original design; its bombastic appearance with muscular sculptures was a good fit with Mussolini's preferred architecture style.
The stone facade is 207 meters (679 ft.) long and topped with statues of winged horses. Wide stairs and long escalators lead to the magnificently vaulted booking hall and concourse. The walls are decorated with sculpture groups, pilasters, medallions and reliefs depicting figures in Roman garb. Five large metal and glass sheds, increasing in size towards the center, cover the tracks of the station. Lunettes just below the shed's arches decorate the walls of the head station.
A functional railway station
While many other cities in Italy built modern, functional train stations after the Second World War, Milan has kept its monumental station intact. It is nonetheless one of the country's most successful, not only as an architectural monument, but also as an efficient railway station. Multiple wide entrances connecting the station to the Piazzale Duca d'Aosta in front of the building and to the neighboring streets ensure a smooth people flow. Inside the station are plenty of shops and eateries spread over several levels.