Westminster Cathedral, the primary Roman Catholic cathedral in England and Wales, is one of London's few buildings in Byzantine style. The cathedral is decorated with beautiful friezes and mosaics.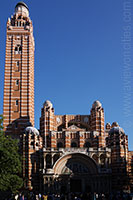 Westminster
Cathedral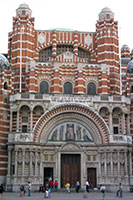 Front facade
Brief History
The Cathedral Church of Westminster – not to be confused with Westminster Abbey – sits on a plot of land that was once home to the Tothill Fields Prison. Acquired by the Catholic Church in 1884, the land was soon to become the location for the Roman Catholics' main cathedral in Great Britain. The cornerstone was laid in 1895 and the structure was largely completed eight years later, though the cathedral was not consecrated until 1910.
Earlier plans called for the new cathedral to be built already in 1867, but because the Catholic Church hierarchy in England was only restored in the late nineteenth century after centuries of being oppressed and even persecuted, it faced difficulties to raise the required funds for the construction of the new building.
Architecture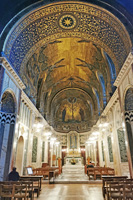 The Lady Chapel
In 1894, cardinal Vaughan, the third archbishop of Westminster, chose John Francis Bentley as the architect for the cathedral. Bentley normally built structures in the Victorian style, but Westminster Cathedral was his first Neo-Byzantine style church. The cardinal wanted a building that would stand out against the nearby protestant Westminster Abbey. It is said Bentley based his design on Mediterranean examples of the early Christian church, and Bentley went on a tour of primitive church buildings in order to gather ideas for the Westminster church.
The exterior of the building is built with red brick and Portland stone. More than one hundred types of marble from all around the world grace the interior of the cathedral, with grand marble columns supporting the canopy over the high altar. Lovely Byzantine mosaics cover the chapels and the vaulting of the sanctuary. None of these were completed when Bentley died in 1902, and it took many years to get them to their current stage of completion.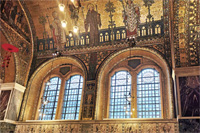 Chapel of St. Gregory & St. Augustine
Eric Gill's friezes, portraying the fourteen stations of the cross, have become world-renowned, and it's worth a trip to the cathedral just to see them. Visitors will also want to head to the 87-meter-tall (285 ft.) bell tower, which rewards guests with an amazing view of the city.
Music
One of the major reasons to visit Westminster Cathedral is to enjoy the sounds of its world-renowned music program. The choir of Westminster Cathedral is recognized as one of the best in the world, and a recital on the church's grand organ is yet another reason to make the trip to Westminster Cathedral. Recitals and concerts are held quite frequently, and guests can often catch one of the ensembles practicing in the sanctuary.