Tate Modern has an extensive collection of modern art, from 1900 until now. It is housed in a former power station. Since its opening in 2000 it has become one of London's most popular museums.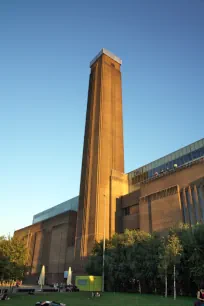 The Building
The galleries of Tate Modern are housed in an enormous brick building that was once the home of the Bankside Power Station. Designed by Sir Giles Gilbert Scott, it was built between 1947 and 1963. Its striking tower is ninety-nine meters tall; regulations stipulated that it was not allowed to be taller than the dome of the St. Paul's Cathedral just across the River Thames.
A New Museum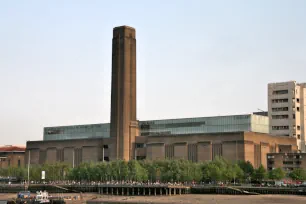 At the end of the 1990s, the Tate Gallery – now known as Tate Britain – was struggling with a lack of space due to its quickly expanding collection of modern art. So it was decided to split up the collection and search for a new location to house the modern works of art. The power station, which was located at the riverbank of the Thames, was chosen as it had been abandoned in 1981 and offered plenty of space. A competition was held to find an architect for the reconversion of the building. A plan by the Swiss architects Herzog and de Meuron was selected out of 148 entries.
The museum opened at this location in May 2000 and has become quite a popular tourist attraction thanks to its eclectic collection of modern art. Also, entrance to many of the collections and exhibits at Tate Modern is free, which adds to its popularity.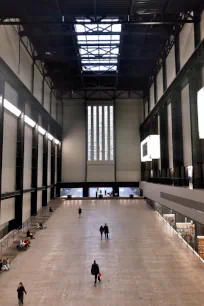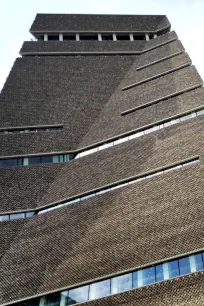 The Galleries
Visitors heading to Tate Modern are treated to a real plethora of modern art. On the first floor, Turbine Hall, guests will find specially commissioned works that change from year to year. On the next level, a small exhibition space profiles changing works of contemporary artists, both regional and international.
On level 3, galleries include Abstraction, Expressionism, and Abstract Expressionism, and guests will view masterpieces by such artists as Matisse, Monet, and Kapoor, just to name a few.
Level 4 houses temporary exhibits while level 5 zeroes in on such movements as Cubism, Futurism, Pop Art, Minimalism, Constructivism, and Conceptual Art. Artists displayed here might include Andy Warhol, Pablo Picasso, and Roy Lichtenstein.
Outside, you can hop aboard the Tate Boat and make the twenty-minute trip to Tate Modern's sister museum, Tate Britain, which has the world's largest collection of British art.
Switch House
In 2016 Tate Modern significantly expanded its exhibition area with the addition of two large oil tanks and a new, very modern-looking pyramidal-shaped extension (the so-called Switch House) which features an eye-catching brick facade. This new building houses photography, video, and community exhibits. The architects for the extension, which was added to the south side of the existing building, are Herzog and de Meuron.