Thanks in part to its exuberant Neo-Gothic architecture, St. Pancras is hands down the most famous of the numerous railway stations in London. During the 1980s, the future of the railway station was in doubt, but it was eventually renovated and transformed into a modern international station.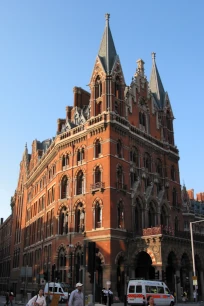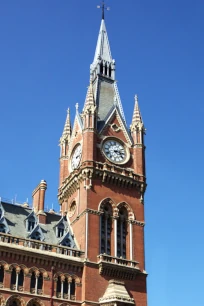 Situated in central London, St. Pancras Station was initially designed in 1863 by William Henry Barlow for the Midland Railway. Upon its completion two years later, St. Pancras Station's train shed stood as the largest enclosed space in the world.
Midland Railway Hotel
But Midland Railway had set out to impress the people of London even more. While Barlow built the train shed, London officials held a competition to choose an architect for the actual design of the station and accompanying hotel. They selected George Gilbert Scott's brick Gothic revival design, but a lack of funds caused them to do a little trimming of his original plans.
While the station was completed in 1868, the accompanying Midland Grand Hotel wasn't finished until 1873. The hotel opened the following year.
The impressive building is designed in an extravagant Victorian-Gothic style. It is especially eye-catching thanks to its spired gothic towers and the red colored brick used throughout.
Unfortunately, however, the hotel was forced to close in 1935 and the train shed suffered much damage during World War II. Many bids to close the station were made, basically because it had become underused, but concerned British citizens fought to keep it open, and the station soon appeared on the government's protected Grade 1 list.
For a few decades after the war, the hotel served as offices for British Railways, the station's new owner. During the 1980s, however, the building became vacant and started to decay. It wasn't until the year 2000 when a renovation started that would transform the grand building once again into a modern luxury hotel.
The Train Station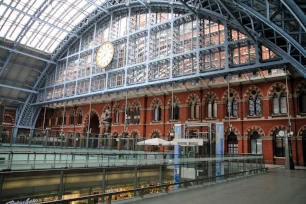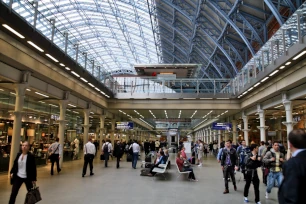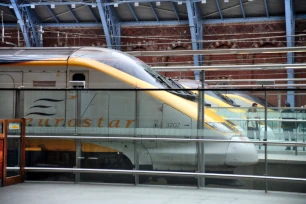 The railway station proper is a great example of Victorian architecture and magnificently combines the iron and stone framework with the brick walls.
The train shed – known as the Barlow Shed – was created by Barlow with the help of engineer Rowland Mason Ordish, and is considered as one of the great engineering achievements of Victorian architecture. The shed has a length of 210 meters (689 ft). Its 74-meter-wide (243 ft) arch measures 30 meters (100 feet) high at its peak.
St. Pancras International
In November 2007, after a long renovation, St. Pancras Station became "international" with the arrival of the Eurostar on its tracks. The platforms had to be lengthened to accommodate the modern trains, which previously arrived at Waterloo Station.
Today high speed Eurostar trains connect London from St. Pancras Station with Paris, Lille, Brussels and some smaller destinations.
Also part of the renovation was the opening of the platforms to the lower level, where a modern shopping arcade was created.