Situated right in front of Buckingham Palace, this large memorial was built in the early twentieth century in honor of Queen Victoria, who reigned over the United Kingdom for almost sixty-four years.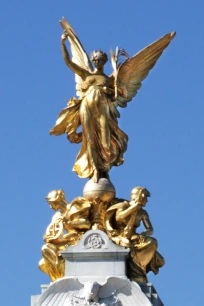 The Memorial
Standing 25 meters (82 feet) tall and made of 2,300 tons of gleaming white marble, the Victoria Memorial pays homage to Queen Victoria, who reigned from 1837 until her death in 1901.
The memorial was designed by Sir Aston Webb, an English architect also responsible for the main facade of Buckingham Palace. The large statues were sculpted by Sir Thomas Brock. The memorial was unveiled in 1911, one decade after Queen Victoria's death. The memorial was only completed much later, in 1924, when the last sculptures were added.
Central Monument
Victoria, of course, was the reason for the monument, but there's much more to see than just the queen, who faces eastward away from Buckingham Palace with the words "Victoria, Regina Imperatrix" (Victoria, Queen and Emperor) placed below her.
On the north side of the monument stands the Angel of Justice and, on the opposite side, the Angel of Truth. On the western side, looking towards Buckingham Palace, is a statue of Charity. All of that is topped off with a gilded statue of Victory, sitting atop the pinnacle with a seated figure on either side, representing Courage and Constancy.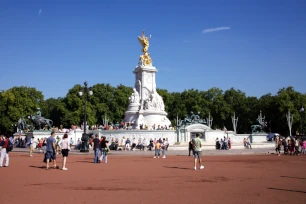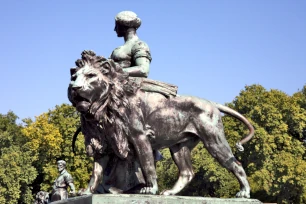 Just above the steps to the surround, you'll find ships' prows, which were placed there in reference to Britain's place as a major nautical power.
Surrounding statues
Other sea-related creatures can be found on the reliefs on the outside surface of the enclosing wall, including mermaids, mermen, and other sea creatures.
Also on the enclosing wall are groups of bronzes. The bronze groups on the east are symbolical of Peace and Progress and, on the west, of Industry and Agriculture. Down the steps leading to the ground level, you'll find two sets of wonderfully majestic lion sculptures. One set is said to have been a gift from the people of New Zealand.
Londoners sometimes refer to the Victoria Memorial as "the wedding cake" monument because of its tiered shape.