The Admiralty Arch was commissioned by King Edward VII, who dedicated the structure to his mother, Queen Victoria. The five arches of the majestic Admiralty Arch lead from Trafalgar Square to the Mall and further towards Buckingham Palace.

The Admiralty Arch, which takes its name from the nearby Royal Navy Headquarters, was designed by Sir Aston Webb, a noted English architect who is also credited with working on such landmarks as Buckingham Palace and the Victoria and Albert Museum. The structure was completed around 1911, shortly after King Edward VII had passed away.
The Admiralty Arch was part of a master plan created by Aston Webb to turn the Mall into a stately royal boulevard. The arch was a majestic barrier between the crowded Trafalgar Square and the more distinguished area around the royal palace.
The Design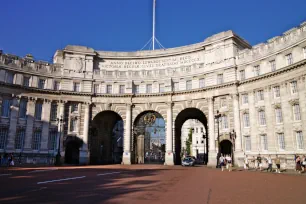 The design of Admiralty Arch consists of a wide six-sided building in Portland stone, of which the facades on two opposite sides have a concave shape. As a result, the structure is very narrow in the middle. This middle section is designed as if it were a triumphal gate with five arches.
The center arch can accommodate auto or horse traffic, but is only used for ceremonial occasions. The large arches on either side of the central arch are used for automobiles, and the two smaller arches next to those are for pedestrian traffic.
A Latin inscription on the attic of the arch pays tribute to the famous queen; it says "ANNO DECIMO EDWARDI SEPTIMI REGIS VICTORIÆ REGINÆ CIVES GRATISSIMI MDCCCCX", which can be translated as "In the tenth year of the reign of King Edward VII, to Queen Victoria from a grateful nation, 1910".
From Office Space to Hotel
The original use of the Admiralty Arch was as the offices and residences for the Sea Lords, leaders of the Royal Navy. It was also used as a hostel for the homeless. Later it was home to several British government offices.
In 2013 the UK government gave approval to restore the iconic Admiralty Arch and redevelop the office space into residences and a luxury hotel. The restoration will bring the landmark building back to its former glory, following Aston Webb's original design. The luxury hotel is expected to open in 2025 under the Waldorf-Astoria brand.
The Nose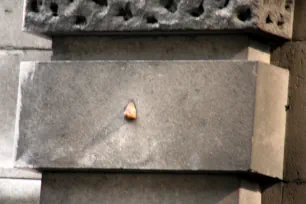 One particular peculiarity of the Admiralty Arch is its "nose". The nose-shaped protrusion can be found in the arch to the left of the central arch (when facing Trafalgar Square) and is about two meters (7 feet) off the ground. It is the size of a human nose, and legends differ as to the reason for its presence.
Some say it is in homage to Edward VII, who had a rather large nose. Other stories state that it is Napoleon's nose and that it would be rubbed by anyone riding through the arch on their horse as a snub to the general.