Lisbon's Museu de Marinha (Maritime Museum) highlights Portugal's rich maritime history with a display of ship models, navigational instruments and historic vessels.
History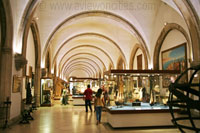 Sala des Cobrimentos
The history of this world-class museum goes back to 1863 when king Luís I decided to create a collection of maritime related artifacts. As the only Portuguese monarch to have personally commanded ships, the king had a personal interest in the country's maritime history, and he was keen to preserve its heritage.
The original collection consisted of many historic model ships from the sixteenth and seventeenth centuries that were stored in the Ajuda Palace. The collection was exhibited at the Old Arsenal building. Unfortunately, most of the model ships were destroyed by fire in 1916.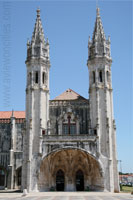 Museum entrance
The museum rose from its ashes in 1948, when Henrique Manfroy de Seixas died, leaving his impressive collection of model ships and other nautical artifacts to the museum. That same year the museum moved to the Laranjeiras Palace, only to move again in 1962, to the west wing of the Jerónimos Monastery where it is still located today.
Jerónimos Monastery
The location of the museum, in a monastery in Belém, may seem odd at first, but it is in fact quite fitting: it is said that this was once the site of a church dedicated to sailors. According to local legend, Vasco da Gama – one of Portugal's most famous explorers – prayed here before setting sail towards the Indies. The ships set sail nearby, from the harbor of Belém.
Museum Collection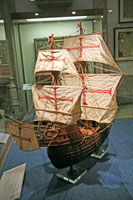 São Gabriel
The museum has a large collection of scale models, naval paintings, uniforms, weapons, globes, sextants and other nautical instruments. The model ships show the development of ship building and focuses on Portugal's golden era in the fifteenth and sixteenth centuries, when its explorers discovered new profitable trade routes. One of the scale models shows the São Gabriel, the famous flagship of Vasco da Gama.
Important improvements in nautical instruments and navigation helped the explorers succeed; many of these items such as sextants, maps, telescopes and globes are also on display. There are also some replicas of stone monuments, the padrão. Portuguese explorers used these stones to demark newly claimed land.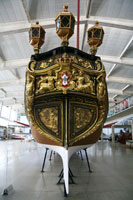 Stern of the
Royal Barge
One of the museum's highlights is a plush cabin of the royal yacht of Queen Amelia, built in 1900. From here, a corridor leads visitors to a large purpose-built hall, the Galliot Pavilion. This hall contains a number of historic vessels. The most impressive is the Royal Barge, built in 1778 for queen Maria I. The barge, which was manned by eighty oarsmen, is decorated with gilded ornaments and relief sculptures.
There are also some planes on display, most notably the Santa Cruz, a Fairey 17 hydroplane that crossed the South Atlantic in 1922.