An unusual addition to the Dresden skyline, the Yenidze building provides an "Arabian Nights" atmosphere for visitors to this German city.
About the Yenidze Building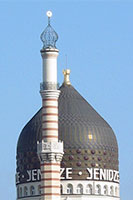 Glass dome
and chimney
Constructed in 1908-1909, the Yenidze building once housed a tobacco factory of the same name. The word Yenidze originates from an area in the Grecian part of Macedonia where tobacco was grown and was also the name of the tobacco importing company that built the factory.
The factory was owned by a Turkish company who hoped to give it a near-Eastern look in order to remind consumers from where the tobacco originated. Locals dubbed it the "tobacco mosque" during its early years, but since the nickname is no longer politically correct, it is seldom heard today.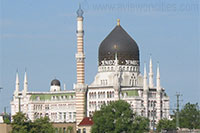 Yenidze seen from
across the Elbe
The building was designed by architect Martin Hammitzsch and was constructed in the downtown area near the train station. Yenidze boasts a huge glass dome and chimneys disguised as minarets. The name of the company is still emblazoned on the front of the building in large letters.
Remodeling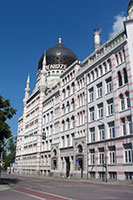 Because it was recognized as a unique architectural gem, the Yenidze building was restored in the early 1990s and reopened in 1996 as an office building and shopping center.
Today, visitors who want to do more than just admire the unusual exterior of the building can make their way inside to enjoy browsing the stores that have made the former factory their home. There are also restaurants and bars and a portion of the building serves as offices for local businesses.