The Neues Rathaus, or New Town Hall, is a monumental building in neo-Renaissance style with a massive 98 meter-tall Baroque tower.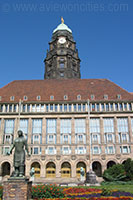 New Town Hall
The New Town Hall, a large complex with five inner courtyards, was built by Karl Roth between 1905 and 1910 after the Alte Rathaus (Old Town Hall) had become too small for the growing city. The Old Town Hall was built in 1744 at the northwest side of the Altmarkt and completely destroyed during the allied bombardments of February 1945.
Reconstruction
The New Town Hall was also heavily damaged by the bombardments but it was rebuilt shortly after the war, between 1948 and 1952. The harmony between the tower and the main wings is gone however since only the octagonal tower was reconstructed accurately while the wings were built in a simplified form. The south wing was rebuilt between 1948 and 1952 and the Festsaalflugel, the east wing, was rebuilt between 1962 and 1965.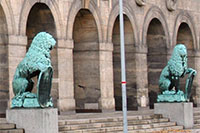 Lions guarding the golden gate
Bacchus on a Donkey
In front of the east wing's four 'golden gates' stand two bronze lions, from Georg Wrba, a professor at the academy. Wrba also cast the bronze sculpture 'Bacchus on a Donkey', near the entrance of the Ratskeller at the southeast end of the town hall. Touching the large toe of Bacchus is supposed to bring good luck.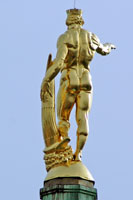 Golden Man
Golden Man
The copper dome of the New Town Hall's tower is topped by a statue known as the 'Golden Man'. It is a five meter high statue of Hercules, created by Richard Guhr. Below the dome, at a height of 68 meters is one of the city's best viewing platforms, with great views of Dresden's historic center.
The New Town Hall is located at the Dr.-Külz-Ring, southeast of the Altmarkt, Dresden's large central square.