Marina City is a complex of two cylindrical towers near the Chicago River. Due to their unique shape, the towers are locally known as the 'corn cobs'.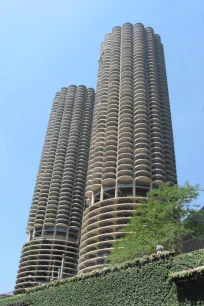 A Multifunctional complex
Marina City is a complex of two sixty-story towers built in 1964 by Bertrand GoldBerg, a student of Mies van der Rohe. It is a lively complex of apartments, recreation facilities, offices, restaurants, banks, a theater and 18 stories of parking space. The complex even boasts a dock at the Chicago River underneath the towers.
The experimental complex was financed by unions, who feared that the outflow of people from the cities in the early sixties would lead to a decrease in jobs. Marina City would give an alternative to the villages and small towns, offering everything in a small area.
Construction
The complex was at the time the biggest ever built in concrete, and its shape was in contrast with the contemporary architectural concepts of straight lines and cubical apartment buildings. The cylindrical shape was used to have less wind pressure. The architect chose reinforced concrete instead of steel, as this was the only material in which he could create the petal shapes of the apartments.
Concrete Buildings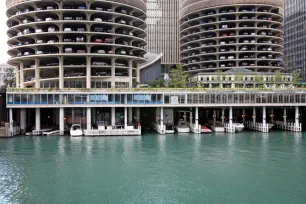 Marina City, together with other famous concrete buildings of that era (the TWA Terminal in New York, the Opera House in Sydney) brought architecture one step further. It is not the most famous building of Chicago, but the building reinforced the image of Chicago as a city on the forefront of modern urban architecture.