Completed in July 2005, the unique structure known as Torre Agbar is one of the newest sensations in the Barcelona skyline. Its interesting shape and design was originally met with much dissension.
The Design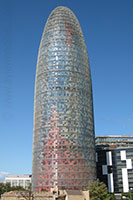 Torre Agbar
The new headquarters for Aguas de Barcelona (Agbar), the municipal water company, Torre Agbar rises into the sky at 34 stories tall and 142 meters (466 feet) in height. Designed by Frenchman Jean Nouvel, the architect believes that the tower is "a distant echo of old Catalan obsessions, carried on the winds that blow in from Montserrat". Often referred to as a geyser, Torre Agbar was inspired by the architectural legacy of Antoni Gaudí.
Technically, the building is made up of two non-concentric oval cylinders topped by a glass and steel dome. There are no internal columns in the structure, but rather, the building's services and emergency stairwells are located in the central concrete core.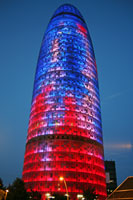 Torre Agbar at night
The Exterior
While the inside is certainly structurally interesting, it's the exterior that fascinates passers-by as they make their way down the highways of Barcelona. The first skin that covers the concrete structure is a layer of polished aluminum in blues, greens, and grays. The second skin, which adds an iridescent sparkle to the building, is made up of 59,619 sheets of clear glass.
There are 4,400 windows accompanied by louvers that tilt in various directions to block out any direct sunlight. At night, the tower becomes yet more magnificent, with 4,500 yellow, blue, pink, and red lights illuminating the exterior.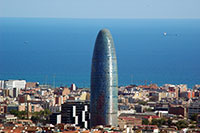 Torre Agbar
towers over the city
Twenty-eight of the building's thirty-four floors are currently used for offices and an additional three house the technical components of the building. A cafeteria occupies another entire floor, another boasts conference rooms, and one floor in the tower offers an observation area. Four subterranean floors contain an auditorium and parking facilities.