Just south of the Estació Sants, a large railway station, is the strangely modernist Parc de l'Espanya Industrial. The park has an unusual mixture of modern watchtowers and replicas of ancient statues.
Creation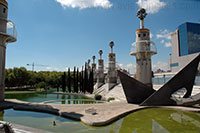 Parc de l'Espanya Industrial
The 4.6 hectare (11 acres) large park was created in 1985 on the site of Vapor Nou, a former textile factory. Locals called the factory L'Espanya Industrial, hence the name of the park.
The development of the park was part of a plan by Barcelona's city council to create more open spaces. The modern design by the Bask architect Luis Pena Ganchegui fits well in the environment, defined by the large railway station, wide roads and high-rise buildings.
The Park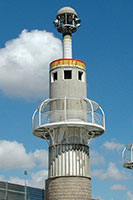 A 'Watchtower'
The park consists of parkland with trees, a large plaza, an artificial lake, fountains, play areas, modern sculptures and sports infrastructure.
The park overcomes a difference in elevation between the elevated railway station on one side and the lower parkland on the other by a series of steep steps. The steps border the lake and acts like some sort of amphitheater seating from where people overlook the lake and parkland. At the top of the stairs are a series of futuristic-looking watchtowers.
Sculptures
Dragon without St. George
There are several sculptures in the park, partly modernist and partly replicas of ancient statues – like the one of Neptune in the middle of the lake. The most prominent sculpture is 'The Dragon Without Saint George' by Andrés Nagel. The large structure in cast iron depicts a dragon coming out of the lake. The sculpture also functions as a slide for children. Another sculpture, 'Bulls of Abundance', was created in 1926 by Antoni Alsina i Amils.
Even though the park may be dominated a bit too much by concrete, it is certainly worth a visit, especially on weekends when it is crowded with locals.