Set in the working class neighborhood of El Raval, the Museu d'Art Contemporani or MACBA is a museum of contemporary art with a focus on Catalonian artists and art movements.
Origin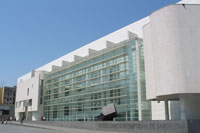 Museu d'Art Contemporani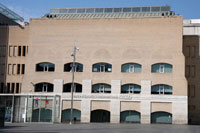 The former convent
In the late 1950s, several modernist artists set up temporary exhibitions with the long term goal of establishing a permanent museum. Their attempts were unsuccessful due to the political environment at the time but in 1987 the idea was surfaced again by the city council of Barcelona, who asked American architect Richard Meier to design a new museum. It selected a location in El Raval – an impoverished neighborhood in the center of Barcelona – for the museum, using it as a springboard for the gentrification of the area.
The arrival of the museum, which opened in 1995, also sparked the creation of other cultural institutions in the neighborhood. The Centre de Cultura Contemporania de Barcelona, an adjoining museum with temporary exhibitions, opened in 1994 and the former convent across the MACBA today also houses exhibition spaces.
The Building
Meier designed a sparkling white building that contrasts starkly with its surroundings. At the center of the rectangular, 120 meter long structure is a circular atrium that runs through the building's four floors and connects the exhibition spaces by a series of ramps and walkways.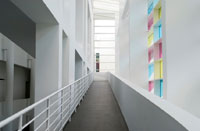 Museum Interior
Facing a large open square, a three stories high glass wall covers the front side of the building and allows natural light into the interior.
The Collection
The collection of the Museu d'Art Contemporani focuses on contemporary art from the 1940s to today, with a rotating permanent collection on the ground floor and temporary exhibitions on the upper floors. The museum highlights Catalonian artists such as Joan Miró, Antoní Tàpies and Francesc Torres as well as foreign art movements and artists who made an impact on the local art scene, including Alexander Calder, Paul Klee, Dieter Roth and other influential artists.