Paleis op de Meir is a former royal palace built in the 18th century at the Meir, Antwerp's main shopping street. After a lengthy renovation, the palace opened to the public in 2010.
Construction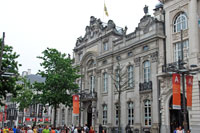 Paleis op de Meir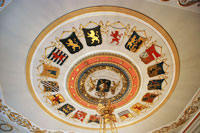 Hall of the 17 Provinces
The palace was designed in 1745-1746 by Jan Pieter Van Baurscheit the Younger as the private residence of Joan Alexander van Susteren, a wealthy merchant. Van Baurscheit created a magnificent Rococo building with a monumental stone facade that was completed in 1748. The statues on the front facade, depicting Triumph of Trade and Triumph of War, were sculpted in 1757 by Jozef Gillis. The interior was also designed by Van Baurscheit and some of the rooms on the ground floor still have the original Rococo design.
When van Susteren died in 1764, the residence fell into the hands of J. B. de Fraula, who ordered the construction of the stables in 1777. The palatial building was later owned by several other aristocratic families, who all made modifications or additions, mainly around the courtyard behind the front building facing the Meir.
Royal Residents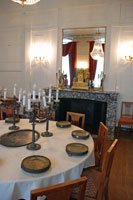 Dining Room
In 1811 the last private owner – the widow of Karel de Brouckhoven de Bergeryck – sold the building to the French State, which at the time ruled over the region. Napoleon had selected the palace as his own private residence in Antwerp, and the emperor had much of the second floor renovated in Imperial style. Napoleon never actually lived here, as his empire collapsed just four years later.
The palace now became the official residence in Antwerp of the Dutch King Willem I, who started another round of renovations, resulting in several newly decorated rooms, most notably the Hall of the 17 Provinces which symbolized the unification of the Low Countries. Its ceiling is decorated with the coats of arms of all the provinces of the Dutch kingdom.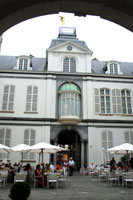 Inner courtyard
After the independence of Belgium, the Belgian Royal family used the palace for official receptions. For this purpose, King Leopold II commissioned in 1905 the construction of the 'Spiegelzaal' (Hall of Mirrors), one of the most magnificent rooms in the palace.
The Palace Today
In 1969 the palace was handed over to the Flemish ministry of culture, and the building lost its status as a royal residence. From 1970 on, the building housed the ICC, a cultural institution that exhibited contemporary art here. From 1993 to 2006 the building was home to the Filmmuseum.
In 2001 the Flemish government started with a thorough renovation of the former palace, and in 2010 the Paleis op de Meir opened to the public, who can admire the interior on a guided tour.
You don't need a guide to visit the inner courtyard – where you'll find a brasserie – or the former kitchen, now home to an exquisite chocolate atelier annex store.