The New Palace of Justice is a modern structure built in 2006 to house the city's law courts. The modern concrete building with striking steel roofs was designed by Richard Rogers.
Zuidstation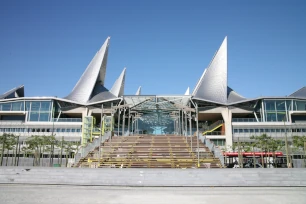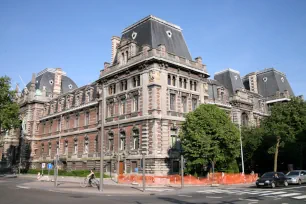 Two world expositions – in 1885 and 1894 – were held here at the current site of the new Palace of Justice. After the end of the 1894 expo, a new train station, known as Zuidstation (South Station), was built here. The monumental railway station with its tall, sturdy tower marked the south end of the Leien, a grand boulevard in the inner city. In 1965 the station had to make way for a new highway and the structure was demolished. For four decades, the site would remain desolate.
A New Law Court
During the 1980s, the Ministry of Justice decided to centralize the judicial offices that were spread out over the city, leading to miscommunication and inefficiency.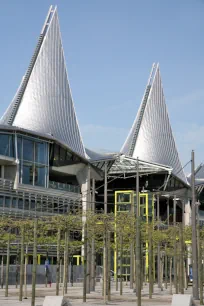 The main Law Court, built in 1871 and known as the Palace of Justice, was deemed too small and insufficiently suited to the needs of a modern law court. In 1990, the ministry selected the site of the former Zuidstation as the location for the construction of a brand new Palace of Justice.
Butterfly Palace
An international competition was organized to select a design for the new law courts and in 1999 a modern design by the architectural firm of Richard Rogers – who, in 1976, shot to fame with his work on the Centre Pompidou in Paris – was chosen.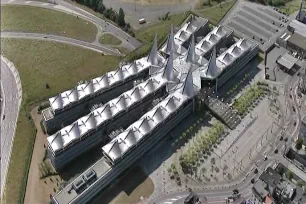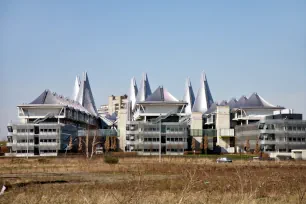 The first stone was laid on April 3, 2001, and the new law courts officially opened five years later, on March 28, 2006. Even though the structure is only five stories high, it has a great visual impact thanks to its scaled roofs. Six of the large, sail-like roofs cover the six largest courts. The twenty-six other courts have smaller scaled roofs. A monumental staircase gives access from the adjacent square, the Bolivarplaats, to a large central hall. The hall connects the six long wings that fan out and form the Palace of Justice.
From an aerial perspective, the palace has the appearance of a butterfly with spread wings, hence its nickname Vlinderpaleis (Butterfly Palace).
The central hall is covered by a glass roof, symbolizing the transparency of the judicial system. The wings are clad with reflecting, colored steel.
The New Palace of Justice was billed as one of the city's first environmental-friendly buildings thanks to a natural ventilation, use of natural light and heath restricting measures. Rainwater is collected and used to sprinkle the gardens between the wings.