A long brick, windowless wall in the Rodestraat hides the tranquil oasis of the medieval Beguinage from the surrounding student quarter.
Beguines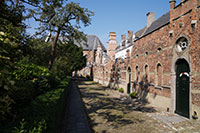 Begijnhof
The Beguines were a group of religious women who lived and dressed like nuns, without taking formal vows. They often lived together in small communes known as beguinages. Unlike nuns, Beguines were allowed to leave if they wanted to.
Early History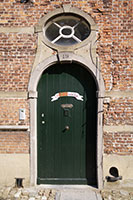 Typical door
Antwerp's first beguinage was founded around 1240 south of the city ramparts. When troops of the French King Francis I, led by Maarten van Rossum, failed to capture the city of Antwerp in 1542, they started to plunder the area outside the city walls, destroying the Beguinage in the process.
Inside the city walls
Three years later, in 1545, the Beguines purchased a triangular piece of land just inside the city walls, at the north side of the city center. They soon rebuilt all the structures, including a small church, which was completed as early as 1547. Despite the protection from the city walls, the Beguinage went through troubled periods. In the sixteenth century, during the iconoclasts, the Beguinage was occupied by reformists.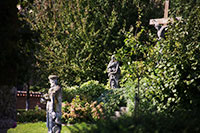 The central garden
After a period of religious revival thanks to the counter-reformation of the seventeenth century, the city of Antwerp confiscated the Beguinage during the French occupation at the turn of the eighteenth century. The church was demolished, while the houses were now used as barracks for French troops.
In 1821 ownership was handed back to the Beguines and the church was rebuilt. During the twentieth century, the importance of religion dwindled and the number of Beguines started to drop; the last Beguine died in 1986.
Restoration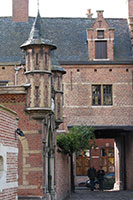 Entrance gate
Today about forty houses remain, most dating back to the seventeenth century. Throughout the centuries, the buildings have been modified and renovated many times.
Inspired by the successful exhibition of 'Medieval Antwerp' at the city's world fair of 1896, a restoration in 1906 added a number of neo-medieval small turrets, crenelations, niches and other ornaments to the buildings.
Renewed interest in the protection of the architectural heritage brought a new round of renovations in the 1970s. In the process, the early twentieth century modifications for all the buildings on the west side of the Beguinage were removed, and the buildings were restored to their appearance during the seventeenth century. At the same time, the Beguinage was declared a protected monument in 1975. Later restorations in the 1980s kept the twentieth century neo-medieval modifications intact.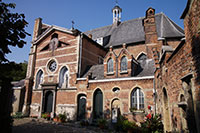 The church
The Beguinage today
A monumental gate in the Rodestraat separates the Beguinage from the outside world. The mostly seventeenth century houses border a cobblestoned street surrounding a central, private garden. Another series of houses are in a small, crooked street at the southern end of the Beguinage. Entrance to the Beguinage is free, but keep in mind that the houses themselves are still occupied by residents.