Amsterdam's unique Bloemenmarkt (flower market), located at the Singel Canal near the Mint Tower, has been a city institution since 1862.
What Makes this Special?
Lots of cities have flower markets, but Amsterdam's is uniquely different. Since the middle of the nineteenth century, this city of canals has boasted a floating flower market. Situated on the Singel Canal, one of the oldest canals in Amsterdam, this unusual flower market is the most famous in Holland.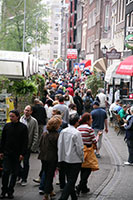 Crowds at the
flower market
Though this seems like a strange place for a flower market, there is indeed a reason why it floats on the canal. When the market was first established in 1862, the plants and flowers sold there were brought to Amsterdam on barges via canal from various parts of the city. It was easier to organize the market on the water than transport all the plants to land. Today, fresh flowers are still brought in every day, but now they're delivered by land rather than on the canals. The market stalls still rest on barges, but they are permanently anchored here.
About the Market
Amsterdam's floating flower market is open all year long, so locals and visitors can take advantage of a wide array of colorful plants no matter what the season. Of course, Dutch tulips (in an amazing array of colors)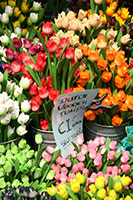 Tulips
are a popular item here, and at Christmastime, the barges are covered with evergreens of all shapes, sizes, and hues. Plants imported from various other locales are also brought to the market and made available for sale, so it's not unusual to find tropical and other non-native plants on the barges at any given time.
Visitors will also find quite a selection of Dutch souvenirs onboard the barges, which are open every day except Sunday. Prices are quite reasonable, and many tourists enjoy taking home a few tulip bulbs they can plant in their garden when they return from their trip to Amsterdam.