The Mausoleum of Akbar the Great is a nice example of the combination of Hindu and Moslem architectural styles.
The Mausoleum of Akbar the Great is situated about 10 km from Agra, in Sikandra. Akbar started the construction but it was completed by his son Jahangir in 1605.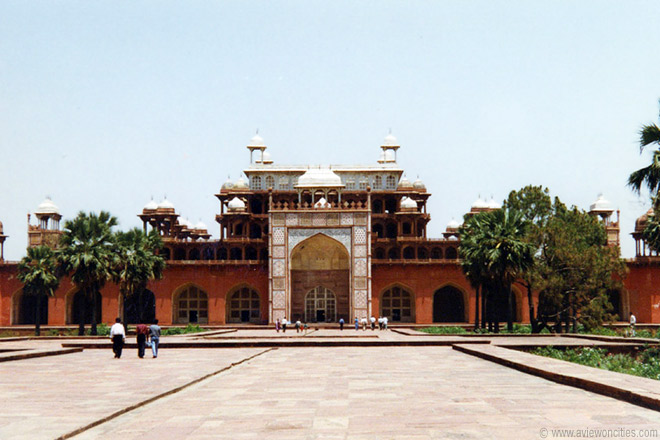 Design
The mausoleum is built partially in red sandstone and in marble, with a mixture of Hindu and Moslem design elements. It can be seen as a transition between the older architectural style, based on red sandstone and the new, with marble as the main element and finer ornaments and carvings.
The Complex
The complex consists of two buildings, one being the mausoleum and the other a gigantic gate, connected to each other via a wide paved walkway.
The gate, known as Buland Darwaza (gateway of magnificence) itself consists of a huge archway and four marble minarets. It is more impressive than the mausoleum itself, which is wider but not as overwhelming. The architecture of the mausoleum is very interesting as is it a good example of the mixture of the use of sandstone together with marble. If you stand too long on the courtyard, you might be harassed by the many monkeys, which can become very aggressive. Inside the mausoleum, you find the cenotaph in a very small sober room.